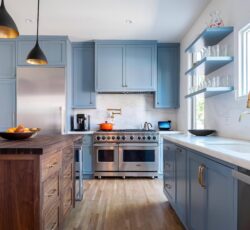 Home Remodel Trends To Look Out For In 2023
Remodels are one of the best ways to increase your home's value. They're also a great way to align modern trends with your style preferences. Experts predict the top home remodeling trends for 2023 will be all about comfort and functionality. The lingering COVID-19 pandemic, rising interest rates and real estate costs are driving homeowners to prioritize renovations that will improve their quality of life.
1. Adding Smart Technology
There are several ways to make your home remodel stand out from the pack. Some examples include using the latest in smart technologies and incorporating environmentally friendly practices into your design plans. The most logical way to do this is to consider what you already have. For example, your kitchen may already contain appliances that are energy efficient, but you could add more to improve efficiency and reduce your power bill. Another clever way to incorporate green technology is to use a smart thermostat that controls temperatures based on the time of day. This will save you money on your electric bill and help the environment at the same time. Having a smart thermostat will also alert you to high temperature spikes, so you can take preventive measures before it becomes too late.
2. Merge Indoor And Outdoor Spaces
When you merge indoor and outdoor spaces, you get more room to move around and enjoy nature. It can also create an easier space for entertaining guests. Experts believe that merging indoor and outdoor spaces has many practical benefits, including allowing more natural light and fresh air to help boost vitamin D production. Additionally, it can make a home more energy efficient. If you want to achieve the right balance between the interior and exterior, try to keep both areas consistent with their design style, accessories, color palettes and furniture styles. In addition, you can use similar materials and architectural touches.
3. Create Multifunctional Rooms
A multifunctional room can be the answer to the question of how to best utilize your space. The key is to determine how you want to use the room and then choose the right furnishings to match that function. For example, if you have an office that doubles as a home gym or media room, outfit the space with pieces that can transform into different furniture configurations, such as wall beds or tables that extend and fold up. These spaces will need to be organized so everything has a designated spot. This makes it much easier to keep the space tidy and allows you to find what you need when you need it most.
4. Add Built-Ins
Adding built-ins to your home can be a great way to increase functionality and make a room feel unique. These features can range from bookshelves in a living room or bathroom to shelving around a fireplace and inside a closet or pantry. They're also a great way to add visual texture. That's why they're so popular in today's homes. Often times, a room feels empty and undefined without some form of storage or shelving. By incorporating built-ins into your home, you can provide that needed texture and dimension in any space.
5. Create Enjoyable Outdoor Spaces
Outdoor spaces can be a fun way to spend time with family and entertain guests. Creating enjoyable outdoor spaces that are comfortable and stylish is one of the most popular home remodel trends for 2023. Keeping the style of your outdoor space aligned with the style of your home makes it feel more natural and cohesive. This can be accomplished by using the same color scheme, furniture and decor as your indoor spaces. Establishing traffic patterns in your outdoor living spaces will help them work well together. This could include laying formal walkways, shifting hardscape materials or planting shrubs and trees to establish corners and borders. And to make your outdoor space more comfortable and inviting, add pillows, rugs and other accessories to make it a place that you and your family will want to spend time in. Also, keep an outdoor heater handy for those chilly nights.